The Importance of good Financial translations for brokers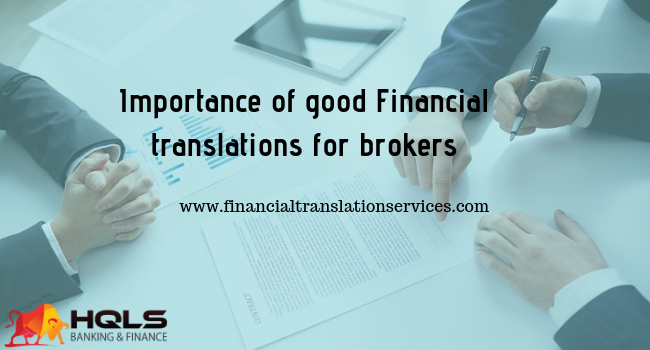 Although English is a widely spoken language, neglecting other languages can be a huge mistake in the business world. The English language is one of the most popular languages. However, it is a mistake to assume the whole world will understand once you speak.
For example, English serves as a second language for several people. This includes 39% of the French population, 35% in Italy and 23 percent in Spain. Therefore, not translating your contents to languages like Chinese, Spanish, and Russian may cost your business a fortune.
The importance of Financial Translation is now more globalized compared to before. Every company is working on expanding into international markets.
Without accurate information and communication, this may prove impossible. Thus, many companies now outsource agency translators or hire in-house writers to help with translations.
Why Financial Documents Need Translation
All companies deal with different documents on a daily – from reports to analysis to administrative and more. Financial documents report a business' financial state, which in turn can say a lot about the success of such a brand. They encompass all the relevant information about the company.
Importance of Financial Translations
As businesses are turning to be more global, it is essential to penetrate the international audience and investors. For this reason, financial translations are of significant importance as information can be delivered in different languages.
Not only that, it is vital to localize your translations. This means your content should not just be about translation. It's about passing information in the simplest form so that a foreign reader can understand.
The following are some importance of financial translations;
People Prefer Their Native Language
English is the most spoken language, but for many, it is a second language. To effectively penetrate an audience, it isn't enough to speak a language they understand. Instead, speak the language that defines them and speaks to their hearts, their first language.
Translation Improves Globalization
Although English is known to be the global language in the business world, translation is still a vital service to connect to several international and foreign audiences.
It Spread Ideas and Information
One of the main reasons for translation is to pass the same information to thousands of people, people of different cultures and languages.
Accuracy in Financial Translations
Mistranslations of financial documents can cause severe damage like legal consequences. Apart from this, poor financial translations can damage the brand image, and this can have some financial implications. Thus, it is advisable to seek expert translation service providers to deliver accurate results.
Why You Should Hire a Professional Translation Company
These are some of the advantages of hiring a professional translator;
Translator companies are usually filled with a diverse team of translators with the knowledge of multiple languages. These are far better than machine translators. Also, with them, you can translate one document into several languages at the same time.
Working with a professional translator delivers excellent results at reasonable costs.
Many documents in companies are confidential. Professional companies are trustworthy and reliable to keep information from your company confidential.
Sometimes, there is urgency for several documents to be translated within a short time. Professional companies can handle several projects at the same time and still deliver quality results.
As said earlier, a single mistake in financial translations can cost a lot. However, professional translators are very reliable and deliver high-value results.
Steps to Getting a Good Financial Translator
Many companies now hire talented translators and agencies to help translate financial documents. Meanwhile, before hiring, you need to be sure of the credentials and reputations of the service providers before handling your projects to them. Such a person should have the following skills:
Any agency or translator about to handle a business's financial documents should be capable of maintaining the fidelity and confidentiality of such a company. Such a company should have proofs from their previous works to confirm their loyalty.
Knowledge of Financial Terminology:
In terms of financial matters, context matters a lot. Thus the translator must understand the right terms used in a document and the right words to translate it to. They should have a vast knowledge of financial terminologies.
Subject Matter Specialization
A translator should be an expert in a subject they are translating to ensure accuracy. Therefore, it is best to hire professionals with knowledge in the financial sector to ensure apt translations.
How to Avoid Damage in Financial Translations
Do not use a machine translator:
Machines cannot give contextual translations to financial terminologies. Little errors like this can result in losing major contracts.
Avoid hiring unqualified translators:
As said earlier, ensure your translator is familiar with the subject matter as a bad translation can lead to legal consequences.
Types of Financial Translations
For a global investment, a company may need most of the kinds of financial translation stated below:
A website that offers local translation provides foreign investors with accessible information about such business.
Business Communication Translation:
As said earlier, the English language is just a second language to many people, and they find it easier to speak in their first language. A business communication translation will enable easy communication between speakers, thus getting rid of inaccuracies or misinformation.
Business contents, website contents, marketing videos require translating to ensure proper marketing to foreign countries.
A poor financial translation can misrepresent a business' financial situation. To avoid legal problems, a business should ensure proper financial data translations.
An accurate financial translation is necessary to keep investors up to date about performance. A poorly translated financial translation may damage the brand image.
Final Thoughts
Financial translation is a critical aspect of promoting your business, and this is the best time to tap into the trend. To ensure longevity and further success of your company, you need to penetrate the global market, hence the need for financial translations.
However, it is more important to have excellent financial translation. Apart from financial implications, inaccuracy can lead to legal consequences. So, hire qualified translators to ensure accurate results.