How to choose the Best translation agency for your business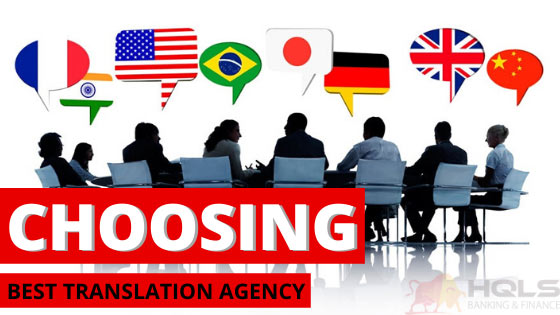 Global expansion has made a lot of businesses thrive. And as it launches into new markets in other nations, it is vital to communicate with partners and customers in a language they know.
You may ask why. Studies have explained that people will likely buy your product or service if you can interact with them in their language. Also, your company may be required legally to interpret texts like instructions and manuals into local languages.
If you've used financial translations or any translation services for business, then you will understand how difficult it is to get a professional agency. But it becomes easier if you know what you're searching for.
Why use professional translation agencies?
A professional translation agency can help transform your business and set it on the right path. You can rest easy knowing that skilled and experienced translators will handle your texts.
Other benefits include:
Translation agencies offer localization
If your business is planning to go global, you may need translation agencies since they provide localization. A translation company will analyze your contents and designs. Graphics, multimedia elements, banners – all these will be modified to suit your target audience. This will, in turn, make the contents of your business culturally and regionally appropriate.
Yes, translating content for international consumption is vital. However, having a professional translation agency to manage your needs can be a marketing tool.
Here is how…
A professional translation agency does not only have the experience and skill to target your audience, but they also understand the culture. These experts have worked with related businesses; that means they know the system.
So you don't need to fret about your recently translated content falling short in a different country. With excellent translation services for business, it will still appear globalized.
Consistent and affordable
Consistency is vital when localizing services and managing business document translation. Professional translators are native speakers of all target languages. Also, they keep abreast of changes in the language and culture, including keeping the same voice and tone all through your translated content.
That's not all. Translation services for business also work with translation memory tools, which highlights lexical databases that employ words, reduce translation costs, and offer a quicker turnaround time. Also, you have a reduced margin for mistakes when you work with a professional translation agency and profit from the technology they use.
How can you choose the right translation agency?
Many translation agencies make similar promises: exceptional service, high-quality translations, quick turnaround, and lower prices. But how can you pick the right one?
Here are practical tips to help you to sort through the many translation service providers.
The most reliable way to get a reputable company is often as easy as asking people. You would be surprised to know someone in your network can help simplify your search. Also, it's always a great idea to ask a few questions to know if the agency is stable and reliable. You can also find out if they were satisfied with the translation services.
Apart from the above, you can search for references and reviews on the agency's site. And if you need to go further (which you can), ask the agency to give you some client references so you can contact them in-person.
Know the language combinations the agency offers
It doesn't matter the amount of text you want to translate; it is best to know if the agency can translate your documents into different languages. If they can, your business will benefit as the agency will contribute to the future development of your business.
Use an agency uses CAT tools
Licensed translation agencies make use of computer-assisted translation (CAT) tools for translation. These tools help translate texts consistently. Also, they make sure you get a great price for any translation task since you pay little to nothing for already translated sections and repetitions.
If a translation company use and offer advanced technological services like machine translation and system integrations, that shows that you're using an agency that keeps abreast with the innovative industry developments.
Know how long the translation company's financial situation
Imagine coming to work to find out that a competent translation partner has shut down or suspended its services. Not a pleasant thought, right? How would you cope if that happens? To avoid this, it is wise to determine the strength, weakness, stability and financial situation of the translation agency.
Know the agency's standards 
A good translation agency has language specialists and translators. Also, they create a network of established vendors that enables them to translate texts into many languages while also adhering to tight deadlines.
However, to get the best quality, make sure you chose a translation agency that evaluates the quality of their translator's works regularly. What's more, they should set criteria for the translator's skills, experience and education level.
Presently, only a few translation agencies have an in-house team of language specialists. But, there are distinct benefits to having an in-house team of professional translators who can provide quality translation services consistently and who know every aspect of the profession.
Use an agency that offers excellent customer service
How does the agency respond to all your inquiries? Promptly? Do they take a while to respond? Did the agency inquire about your needs? Do they appear concerned about your questions? All these can give you an idea of what it would seem like working with the agency, including how they manage client inquiries.
Also, you can ask some questions about how they deal with clients. Will they assign a particular contact person? Will they give you an option to send e-mails or call them? Will they meet you frequently to review your partnership? Indeed, all these depend on what you need and require from the translation agency.
If you heed to these helpful and practical tips when picking a translation company, you'll surely succeed in the early stages of your business. The essential thing is to get the right partner from the beginning, so you won't need to change translation agencies while wasting resources and time starting afresh.